SEX TALK: Uncensored Exercises for Exploring What Really Turns You On
Sex Talk: Uncensored Exercises for Exploring What Really Turns You On (New Harbinger, October, 2002) is a collaboration between Dr. Aline Zoldbrod and Lauren Dockett, an author who focuses on women, sexuality, politics and the arts and a talented writer of erotica.
While Dr. Zoldbrod provided the ideas for the exercises, Ms. Dockett penned the spicy examples. Docket's erotica and relationship stories have been anthologized in the collections Uniform Sex and The Moment of Truth.
From the forward of Sex Talk:
How would you feel if every unhealthy sexual inhibition you have suddenly disappeared? How about if a partner you'd thought had lost all desire for you unexpectedly turned to you, after a surprising and steamy session of lovemaking and said, "Baby, that is the best time I have ever had."
Sound far fetched? You'd think. But what if it's not? We all have the potential to be sexually free, to satisfy ourselves and our partners, and to reach pinnacles of sexual joy. Each of us has that potential, whatever our age or the status of our relationship. And the secret to realizing it is something we do every day of our lives. The secret is talk.
We're not just referring to dirty talk. Although we will, and it'll be fun. What we mean is no-holds-barred honest talk. Telling each other the truth in a heartfelt way about what it really takes for each of us to turn on is the ticket to a happy, healthy sex life.
Praise for Sex Talk:
"There's a great little book that I've recommended before but that may have been written with you in mind. It's called Sex Talk: Uncensored Exercises for Exploring What Really Turns You On, by Zoldbrod and Docket. It gives lots and lots of good ideas and scenarios about how to talk to your lover about sex in a way that opens and furthers the conversations, rather than shutting it down." -Sex Talk reviewed on Loosie.com
Sex Talk was listed in Violet's Top Ten Sex Books for December, 2003 on tinynibbles.com
"The world's remainder bins are full of books that tell you why communication is vital to sexual relationsips but very few go far enough to show how couples can express their innermost sexual desires. (Zoldbrod and Dockett) have compiled 50 techniques from playing strip poker to mapping your erogenous zones—simple tips….that with a willing partner could make for an interesting tete-a-tete." -Sex Talk reviewed in BC Business Magazine
" Required Reading List: Sex 101:
Talking about your turn-ons with a new partner may be difficult but,
according to the authors of Sex Talk, open sexual dialogue is essential for
a healthy and (and enjoyable) sexual relationship. ….With the authors'
guidance, readers can learn how to voice their sexual needs to get the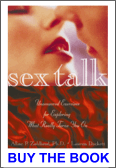 most from their sex lives." -Sex Talk reviewed on www.FW:The Art of Living
"If you're tired of books that tell you WHY communication is vital to sexual relationships but stop short of explaining HOW, it's time for Sex Talk. The authors use explicit scenarios, scripts, and easy exercises to help readers learn to express their sexual desires. Take this book's message to heart and you'll experience deeper intimacy, renewed desire, and a soaring sexual self-esteem." -Anne Semans, author of The Mother's Guide to Sex and The Good Vibrations Guide to Sex