Worried About Sexual Addiction or Compulsion?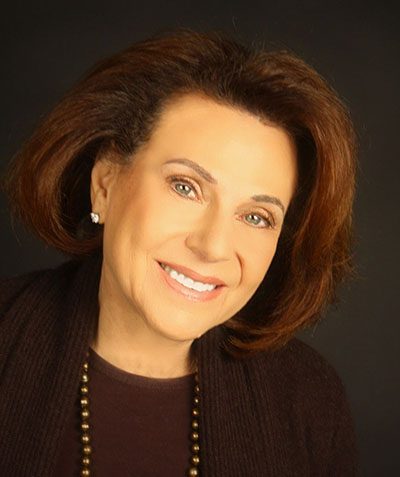 An estimated 14 million Americans– 1 in 17 people– have a form of sexual addiction or compulsion.
Dr. Aline Zoldbrod's work in the field of sexual addiction has been nationally recognized. In 1998, she published her award-winning book SexSmart, which described in detail one of the most common developmental pathways to sexual addiction. SexSmart is used in the understanding and treatment of sexual addiction in academia, community centers, private and group practices, and in self-help groups for sexual addiction in the United States and abroad.
Cited on Sexual Addiction in the Media
Since 1998, when she talked about sexual addiction in the L.A. Times, Dr. Zoldbrod has been cited on sexual addiction by major national newspapers, in magazines, on radio stations, on TV, and in professional and popular books. Her comments on the increase in pornography addiction are even entered into the Federal Record (U.S. Senate, November 2005.)
In May of 2010, Dr. Zoldbrod was featured in a New England Psychologist article on sexual addiction. To read the article, Click Here.
Dr. Zoldbrod has also been quoted on sexual addiction on cnn.com, examiner.com, abc.com, WBUR.com and WBUR radio, Boston.

Professional Memberships
Dr. Zoldbrod is a professional clinical member of the Society for the Advancement of Sexual Health (SASH). Dr. Z's contribution to the understanding and treatment of sexual addiction is also recognized by both men and women trying to heal from sexually compulsive behavior. She is cited on many, many sites and blogs, including:
Addictions.com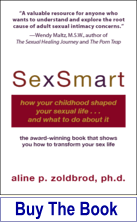 Heart-healer-net/other-resources.html
slaaonline.org/books
Aherosjourney.com
www.eastbayholistictherapy.com/recovery-resources-for-sex-addicts
www.massappealnews.com
S.A. Lifeline Foundation.com
www.yourbrainrebalanced.com
Featured Speaker at National Conferences for Sexual Addiction Specialists
Dr. Z has been a presenter at the national SASH conferences, speaking in 2008 on "Using the Milestones of Sexual Development Model to Understand and Treat the Underlying Issues of Sexual Addiction" on "Adolescence and Sexual Development: What Kinds of Environments and Experiences Sow the Seeds of Sexual Compulsion" in 2010, and on "Helping Partners of Male Sex Addicts: Models, Techniques, Interesting Questions, and Shared Wisdom" in 2013.
Dr. Z's Contribution to the Field of Sexual Addiction Has Been Recognized by Fellow Professionals:
"A valuable resource for anyone who wants to understand and explore the root cause of adult sexual intimacy concerns."
–Wendy Maltz M.S.W. Author, The Porn Trap: The Essential Guide to Overcoming Problems Caused by Pornography
"SexSmart is the book that I hand to my patients who tell me that they do not recall being sexually abused but who nevertheless feel that "something is wrong with me." The Milestones in Sexual Development model is particularly helpful for patients dealing with sex addiction and co-addiction, because the sexual behaviors that get acted out almost always can be correlated with a failure to successfully negotiate specific milestones. It is an empowering book that encourages people to be in the solution, not in the problem. This is one of the books that I wish that I had written."
–Ginger Manley APRN BC, AASECT Certified Sex Therapist and Diplomate, and Certified Supervisor; Certified Sex Addiction Therapist
Dr. Z's Perspective on Sexual Addiction
Anyone Can Become "ADDICTED" to Sex
Dr. Zoldbrod's patients come from all walks of life. They are physicians, lawyers, plumbers, business owners, executives, computer programmers, engineers, teachers, psychotherapists, nurses, police, entrepreneurs, salesmen, military, and more– men and women, gay, bi and straight, single or coupled.
Different Pathways to Sexual Addiction
There are many different pathways to becoming addicted to sex. In every case, it was an accident. Sexual addiction is not something you choose. That's interesting, too, since it begins as something you did choose, does provide pleasure, but becomes impossible to control.
And sexual addiction can take many, many forms, including but not limited to obsession with internet porn, pursuing high priced call girls, constant masturbation, prostitutes, cruising Craig's list for anonymous sex, or constant frequenting of strip clubs and massage parlors.
You probably began to use sex to deal with some feelings you didn't like. Whether the feelings are frustration, boredom, feeling out of control, anger or disappointment or frustration with your partner, anxiety, sadness, loneliness or something else, sexual addiction is a "solution" that turns into a problem, and your life spins out of control.
Powerful and/or Type A Personalities
One group of people having trouble with sexual additions are men and women who have a huge amount of control over their life in other spheres. They pride themselves on their success and their sense of control. If you're in this group, maybe you first began masturbating to porn as a teenager, which is completely normal, but later you probably began to use sex compulsively to get what you wanted somewhere when you were becoming frustrated with feeling not-so-in-control in your job or your relationship. You've been so successful and powerful in every other realm, but this is a behavior you can't stop, and you're concerned.
If this describes your pathway to sexual addiction and compulsion, you need a very smart, seasoned and accomplished sexual addiction therapist, because you need to talk to someone who is intelligent enough to figure out your particular puzzle and your specific treatment plan, someone you can respect and whom you can't push around!
People with Social Anxiety and Lack of Sexual Confidence or Experience
Another common pattern occurs most often among men who as teenagers did not feel successful with girls. Trying to get dates, or experiencing fear and anxiety on dates is such a difficult experience that you retreated into the impersonal world of sexual addiction–often computer porn or anonymous or paid sex.
People With a Recognized or Unrecognized History of Familial Neglect, Violence, or Abuse
Though the cause of sexual addiction can differ from person to person, many sexual addicts come from families where their emotional needs were not met. There may have been emotional and physical neglect, violence, sexual abuse, or alcohol or drug addiction. Statistics have shown that this is the case for more than 80% of the people who get caught up in sexual addiction.
For whatever reason, your parents may have failed to provide you with good experiences in the Milestones of Sexual Development. (Click Here to see the Milestones Model)
You didn't have kind and consistent touch or emotional support when you were young. You learned not to trust and not to become vulnerable and attached to other people.
Now, as an adult, deep down you don't feel loved. You don't trust others.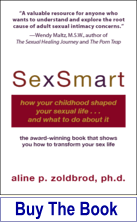 SexSmart is an excellent companion to the leading books on understanding sexual addiction.
SexSmart will help you map your past so that you understand what happened to you in detail:
Why did you begin to use sex to calm and soothe yourself?
Why did it happen so early in life?
Why is emotional intimacy so scary?
Dealing with your addiction is like going on a journey. An important part of healing is going back into the past and looking–frame-by-frame, as if you are watching a movie–at what happened to you when you were younger.
You need to look with new eyes, eyes that understand the concept of sexual addiction. Using the exercises at the end of each chapter, you will be able to allow yourself to feel the feelings that were too dangerous to feel before.
SexSmart will give you a detailed roadmap of how your unexplored feelings about your past created your pattern of sexual addiction, and SexSmart's exercises and journaling will give you a recipe for how to overcome it.
You will read the stories of other sex addicts, men and women like you who have already taken the journey to sexual recovery using the wisdom contained in SexSmart.
Treatment for Sexual Addiction with Dr. Zoldbrod
Whatever your sexual compulsion, your treatment with Dr. Zoldbrod will be tailored to your individual pathway to sexual addiction, your individual needs, and your specific situation.
Getting over compulsive sexual behavior is an intensive process, and an approach that blends heart and mind. The goal of treatment is to stop compulsive sexual behavior but also to discover, define, learn (or re-learn) how to enjoy sexuality which feels healthy.
For each of you, your journey will be different.
Individual therapy for sexual addiction with Dr. Zoldbrod involves:
Specialized techniques for assessing resources –An individualized assessment and ongoing support.
Depending on the results of the individual needs assessment, treatment usually will include:
Identification of specific developmental and current vulnerabilities
Assessment of any co-occurring problems and addictions
An evaluation of where you are in the "stages of change"
Assessment of sexual development and pre-addictive sexual functioning (Using Dr. Zoldbrod's Milestones model.)
A powerful imagistic technique to assess deficits in self esteem
Learn how to identify, tolerate, and healthfully process difficult feelings
A specific technique to identify and strengthen the healthy internal resources you need to cope with your cravings
Being taught how to identify internal triggers such as boredom or depression which trigger compulsive behavior
Identifying lifestyle changes needed in order to cut down on unnecessary exposure to problematic sexual temptations and individual cravings
A sophisticated model which explains the way your brain needs to change in order to overcome your sexual addiction
Encouragement to join a support group
A process to create accountability for your actions
Suggested reading
Sexual Reintegration Couples Therapy

Not all couples make it, after the discovery of sexual betrayal. But many do. As a sex therapist and an expert in sexual addiction, Dr. Zoldbrod has the credentials to work with couples in recovery who have done several years of work and who are ready to have a sexual relationship that is based on truth, vulnerability, sexual health and wholeness.
To read an article about the experience of being a wife of a male sex addict, Click Here
To Contact Dr. Zoldbrod, Click Here
Internet Resources
Sexual Addiction and Compulsivity – Love Addiction
www.sash.net The Society for the Advancement of Sexual Health (SASH). Information on sexual addiction and compulsivity. Screening tests. List of therapists and treatment centers who treat sexual addiction and compulsivity.
www.sexhelp.com Patrick Carnes' web site. Information on sexual addiction and compulsivity. Sexual addiction screening tests.
Sex Addiction Twelve Step Meetings
Internet Porn Addiction – Cybersex Addiction
www.cybersexualaddiction.com Therapists and Authors Patrick Carnes, Jennifer Schneider, David Delmonico, Elizabeth Griffin. Cybersex addiction screening test. Resources.
For Partners – Spouses and Families of Sex Addicts Twelve Step Meetings
Adult Children of Addicted – Dysfunctional Families – Twelve Step and Sixteen Step Meetings
Non Twelve Step
Smart Recovery
www.smartrecovery.org
866-951-5357
Porn Blockers—a beginning
Beware! None of these can totally be considered safe.
Know that anything you look at on YouTube cannot be blocked at all, and you can get triggered by YouTube sending you spontaneous messages with links to other material which will be damaging to you and your family.
Covenant Eyes - covenanteyes.com
K9 Web Protection - k9webprotection.com
Bsecure Online - bsecure.com
Blue Coat - bluecoat.com
Books: Sex and Relationship Addiction
Augustine Fellowship, Sex and Love Addicts Anonymous, Fellowship-Wide Service, Inc. Sex and Love Addicts Anonymous. Boston, 1986.
Canning, Maureen. Lust Anger Love: Understanding Sexual Addiction and the Road to Healthy Intimacy. Naperville, IL: Sourcebooks, Inc., 2008.
Carnes, Patrick. Don't Call It Love: Recovery from Sexual Addiction. New York: Bantam, 1991.
Carnes, Patrick J. Out of the Shadows: Understanding Sexual Addiction. Center City, MN: Hazelden, 1983, 1992, 2001.
Carnes, Patrick and David L. Delmonico, Elizabeth Griffin, and Joseph Moriarty. In the Shadows of the Net: Breaking Free of Compulsive Online Sexual Behavior. Center City, MN: Hazelden, 2001.
Carnes, Patrick and Joseph Moriarty. Sexual Anorexia: Overcoming Sexual Self-Hatred. Center City, MN: Hazelden, 1997.
Golden, Gale. In the Grip of Desire: A Therapist Works with Sexual Secrets. New York: Routledge, 2009
Kasl, Charlotte Davis. Women, Sex, and Addiction: A Search for Love and Power. New York: Harper and Row, 1989.
Maltz, Wendy and Larry. The Porn Trap. New York: Harper-Collins, 2008.
Mellody, Pia. Facing Love Addiction: Giving Yourself the Power to Change the Way You Love. San Francisco: Harper San Francisco, 1992.
P.D.N.E.C. Hope and Recovery: A Twelve-Step Guide for Healing from Sexually Compulsive Behavior. Center City, MN: Hazelden, 1987.
Schaef, Anne Wilson. Escape from Intimacy: Untangling the "Love" Addictions: Sex, Romance, Relationships. New York: Harper Collins, 1989.
Weiss, Robert. Cruise Control: Understanding Sex Addiction in Gay Men. Los Angeles: Alyson Books, 2005.
Williamson, P., and S. Kiser. Answers in the Heart: Daily Meditations for Men and Women Recovering from Sex Addiction. Haze
Zoldbrod, Aline. SexSmart: How Your Childhood Shaped Your Sexual Life and What to Do About It. Originally 1998, now iUniverse, 2009.